University saves $120,000 annually with CMMS
Automating maintenance operations results in more management control, enhanced FM services, and lower costs
An integrated PropertyTRAK solution for Operations Maintenance has empowered and amplified the Kansas City University staff's ability to efficiently accomplish more. Financial benefits of more than $120,000 annually are accruing directly to the University due to the system's capability to control staff size while extending the useful life of assets.
KCU manages 600,000 sq.ft.
Kansas City University provides medical education for physicians. Based in Kansas City, Missouri, for more than a century, in 2019 KCU added a campus in Joplin, Missouri, for a total building space of 600,000 sq. ft.  Services for classrooms, laboratories, biomedical research, and a medical simulation facility are provided by a staff of 40 technicians and managers.
Previous Operations' Workflow & Asset Management
Most efforts were focused on reactive maintenance with little time for planning improvements and sustaining them. Spreadsheets listing facilities, equipment, and scheduled work were kept in synch, when possible. Administrative managers, professors, and teaching assistants often placed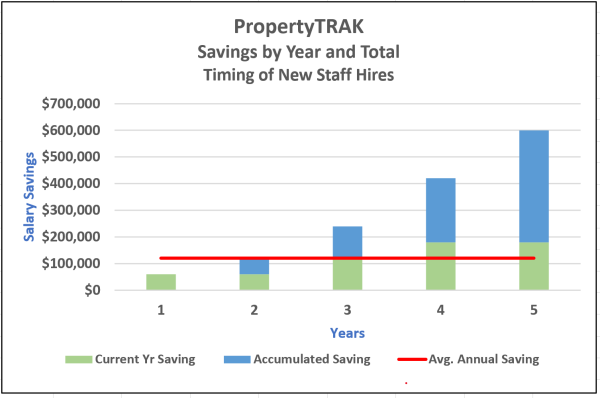 multiple calls or emails to the department for needed service.
Vendors managed their own schedules for planned service calls. Extra expense was incurred for unforeseen and unplanned emergency work. The bottom line could only be improved with more effective workflow management and preventive maintenance scheduling.  
Key Concerns
Schedule Preventive Maintenance to improve equipment reliability.
Goal: 80 percent Preventive Maintenance, 20 percent Reactive Service.
Workflow organization for responsiveness, consistency of services, and compliance with regulations.
Mobile access of assignments and records to improve efficiency on either campus.
Change Decision
A backlog of service needs grew even with continued growth in staff expense and vendor emergency charges. KCU management had expressed concern about the university's image, so a better way to operate and manage resources had to be found.
The Solution
Four weeks after selection of PropertyTRAK CMMS, the system was in use for day-to-day operations at the Kansas City campus. Priority Lists and Dashboards to manage work orders quickly improved response times.  A consistently higher level of services was attained with Checklist procedures guiding the work. Customizable reports are generated and shared with the management team to document improvements and sustainable costs of operation.
Uniquely Solved Concerns
Resulting Impact & Cost Savings
PropertyTRAK provided the Operations Department with the ability to improve processes, efficiency, and quality standards with minimal staff growth. With the easy-to-use software and Mobile App, current maintenance staff could take on additional responsibilities and improve their level of performance. KCU continues to modernize its legacy facilities and expand its campuses by adding additional buildings. The university's image has experienced transformative results and overall satisfaction levels have greatly improved with PropertyTRAK.
Performance metrics across all operations show that facilities services have improved and are operating more efficiently. Through the preventive maintenance program, usable life of many major assets has been extended. The organization has been able to delay replacement of these assets, making a substantial positive impact on annual capital budgets. Providing a high level of service while restraining the growth rate of the maintenance staff has saved KCU an average of more than $120,000 annually over a five-year period.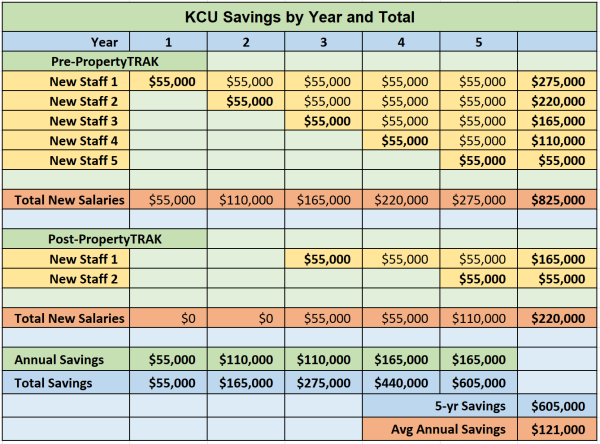 Fit Within Operations' Department
Operations can check status information to easily manage on-going work and new issues that arise at either campus. Maintenance staff has ready access to their schedules and assignments for improved convenience and job satisfaction. QR codes can easily track all assets and help document the work associated with each piece of equipment. User roles encourage participation so employees can easily submit service requests and Vendor Users can directly document assigned work order details, photos, and invoices. Recognition of service improvements has increased the Operations' team's job satisfaction. Real-time network access and automated communication combine to deliver substantial time and cost savings.
Benefits to University
Operations can now go to planning and budget meetings prepared with actual data from new construction and other projects. Decisions based on actual trends have saved money for the institution. Proposals to extend the useful life of assets can be relied upon when re-appropriating funds to other needed improvements. With the responsive solution and processes in place, management and staff can be proud of the high-quality, safe environment they maintain for the KCU Community of employees, administrators, teachers, students, and their families.
Final Comment
"PropertyTRAK is key in our ability to manage and plan our facilities and operations' maintenance needs. We rely on it every day, and it would add great value and insight to any business." Kevin Cambers, Facilities Manager, Kansas City University
About PropertyTRAK
PropertyTRAK is a cloud-based Operations CMMS software solution, designed to manage assets and buildings for sustainability. Clients benefit from the ability to organize, automate and simplify workflow events and communications. PropertyTRAK has more than 15 years' experience supporting clients nationwide with broad capabilities including industrial-level Mobile Applications for iOS and Android devices.
Organize • automate • simplify
Start Saving Now with PropertyTRAK
CMMS REIMAGINED
Ready to Manage Better?